Thank you to all of our participants in this challenge.
Each of the projects were so creative and the DT had a difficult time choosing a winner.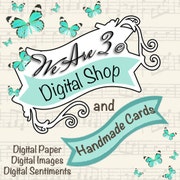 The winner of the challenge and recipient of the prize from the sponsor is...


#187 Bisse
Comments from the DT:
What a great project, I love all the attention to detail, her different layers, textures and papers really make it pop!
Congrats! Please read the following directions.
You have 2 weeks to complete Both steps to claim your prize
1. Leave a comment on this post so we know you have read it.
2.

email me

with winner of Challenge #195 in the subject line so I can send you details on how to claim your prize
Top 3 (in no particular order)
#130 Cheryl Hare
Comments from DT:
a beautiful marine card
#204 Sanja Grdinic
Comments from DT:
Great card. layout and coloring its beautiful
#95 Vannessa
Comments from DT:
I love the shape of this card and the beautiful

Don't forget to check back tomorrow for our next challenge.